Navigation
---
Download PDF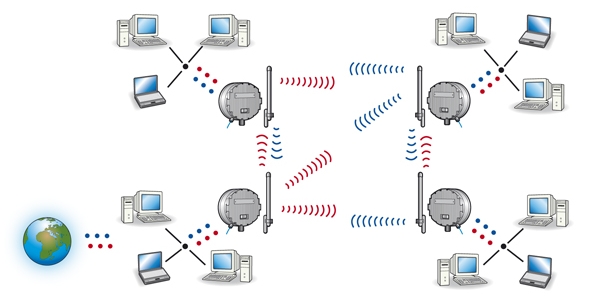 Why

The "Multi-Bridge" solution allows the interconnection among several buildings far one from the other but with reciprocal optical view with at least another one inside the network. It is actually the simpliest tecnique to link several LAN networks and share resources in any case where it is not possible to use cables.

How

Every single point which needs to be connected will be equipped with an omnidirectional or directional aerial in Bridge configuration wich is, in turn, connected to an existing LAN network. All PCs inside the building are therefore connected to all other PCs in the otherr buildings. WEB network is also shared. All radio links wotk on the same frequency band (2,4GHz or 5GHz) and on the same channel as well as the band will be co-shared too.

What

Several CHR5010 Access-Point radio devices
Several directive parable aerials 2Band45 / 2Band60 types or omnidirectional aerials 2G40V9 / 2G40V12 / 5G80V12 types
Co-axial cables to connect radio devices with aerials
Pre-existing LAN cabled networks

Kit

To implement this solution, Linkit offers two options:
• Pre-assembled kits PtoP2K, PtoP20K and PtoP50K to have connections at maximum distances of 2, 20 or 50 km. All kits include radio devices, external airtight box, current supply system in PoE technology and aerial.
• As an alternative it is possible to use single products: CHR5010, 2Band45, 2Band60 or omnidirectional aerials. Radio devices include urrent supply system in PoE technology and fixing kit.